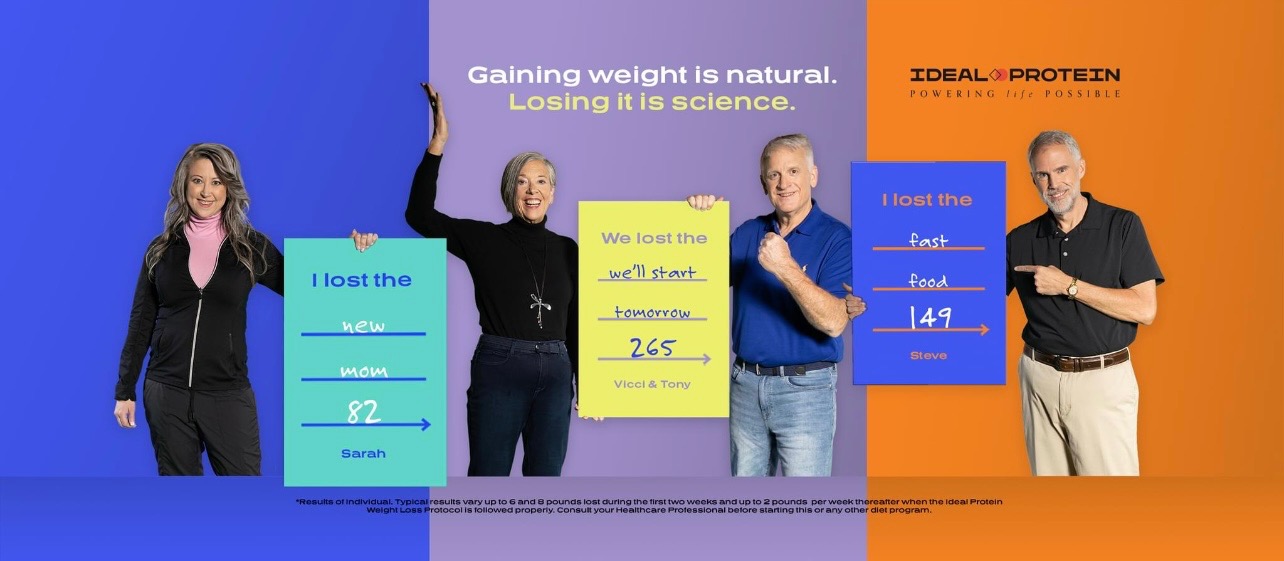 Our medically developed weight loss protocol and smarter lifestyle choices education offers dieters what they really want…a structured program that can put an end to constant dieting.
Business Hours
Monday:
7:30am - 7:30pm
Tuesday:
7:30am - 7:30pm
Wednesday:
7:30am - 7:30pm
Thursday:
7:30am - 7:30pm
Friday:
7:30am - 7:30pm
Saturday:
10:00am - 1:00pm
Sunday:
Closed
On Mondays, Tuesdays, and Thursdays, available until 8:00 p.m. by appointment.
Short Term Weight Loss is a Good Starting Point…
but Balanced Weight Management After Dieting Should be Your Ultimate Goal
There are 3 critical things to understand about weight loss that will help you maintain a stable weight after dieting:
One of the greatest hazards of dieting is losing muscle mass along with fat.
Muscle is required to burn calories. Therefore, when you decrease your muscle mass via dieting, you will have less muscle to burn calories after you return to your regular eating patterns. In other words, you will regain your lost weight. In fact, according to the National Institutes of Health, dieters regain almost all of their lost weight within 5 years after dieting.
If you start dieting again you will lose yet more muscle, further inhibiting your ability to burn calories.
And thus the hopeless cycle of yo-yo dieting is set…unless you've chosen the Ideal Protein Weight Loss Method.
Call Now (289)671-8828 and Ask Us About Your Initial Weight Loss Assessment…Our Medically Developed Diet Protocol can be Tailored to Just About Any Individual, Regardless of Your Weight Loss Goals.
Winner of Whitby This Weeks: Readers Choice Award for Best Weight Loss Center – 5th year in a row!
Optical Group is a certified optometrist's office that has been serving families in the Durham Region and the GTA for over 35 years. Dr. Constance Odiase and her team of eye care professionals are happy to welcome you to their optometry center in the heart of Whitby.
We understand how important eye health is to your quality of life and provide care and products that will meet all of your visual needs. We offer the highest quality lenses and frames available at the lowest possible prices and personalized optical and optometric care that will give you the best possible vision. If you're in search of quality eye care with a friendly staff then call us today to book your first appointment, or drop in to browse our selections of products in person.
You can also browse around our website to find out more about the clinic, see a selection of our products, or get some eye care and healthy vision tips.
Pick up the phone and give us a call (289)671-8828, we'll help you to achieve your ideal body weight and bring out your inner confidence!
Left to Right: Mike Ciell, Vice-President Clinic Operations at Ideal Protein, Cathy MacAskill, Former Clinic Manager & Weight Loss Coach, Dr. Tran Tien Chanh, Doctor in Nutrition, Biology and Sports Nutrition and Developer of the Ideal Protein Weight Loss Method, Olivier Benlolou, Past President / CEO Ideal Protein
Durham Optimal Weight Loss is Authorized to Use the Ideal Protein Weight Loss Protocol and Products. The testimonials on this website are those of the individual that is identified, you should not necessarily expect to receive these results. Typical results vary from person to person and individual to individual when the Ideal Protein Weight Loss Protocol is followed properly. You should consult your physician or other health care professional before starting this or any other diet program to determine if it is right for your needs.
107 Kent Street, 1st Floor, Whitby ON L1N 4Y1 – Phone: (289)671-8828
Copyright © 2023  Ideal Protein All rights reserved.